Tree Finder:
A Manual for the Identification of Trees by their Leaves
May Theilgaard Watts*
A pictorial key to the leaves of trees of the eastern United States and Canada.
* May Theilgaard Watts was the first to introduce a broad readership to concepts from ecology. In her books Reading the Landscape of America and Reading the Landscape of Europe, Watts pioneered the idea of studying natural history at the landscape level, considering the biological and cultural forces that have shaped the world around us. Her books are considered classics in landscape interpretation and field ecology.
Watts created the first Finders keys as mimeographed handouts for her students at the Morton Arboretum in Illinois. She adapted the dichotomous keys used by botanists, creating highly illustrated keys that amateur naturalists would find fun and easy to use.
Nature Study Guild Publishers.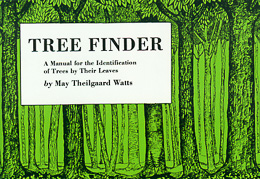 ---
---
To select from a dropdown list of genera, type only the first 2-3 letters.
If "briar" doesn't deliver the results you want, try an alternate spelling such as "brier", etc.