Weeds of Southern Turfgrasses
Tim R. Murphy, Daniel L. Colvin, Ray Dickens, John W. Everest, David Hall, L. B. (Bert) McCarty
Turfgrass monocultures don't have much tolerance for free-spirited individualists, so some wild plants that native plant enthusiasts embrace are included in this book as weeds — alongside others that are genuine pests. Nevertheless, a useful book which describes and provides multiple photos of almost 200 plants.
Clemson University Public Service Publishing.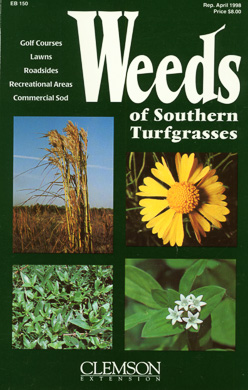 ---
This book is out of print. Check out your local used bookstores or an online source like AbeBooks.
Or better yet, check out Common Weeds and Wildflowers (EB 161): Gardens, Roadside, Pastures, Fields, Golf Courses, Sports Fields, Lawns, Crops, Ornamentals, Sod, which is an expanded and updated version of this book.
---