Spermatophytes (seed plants): Angiosperms (flowering plants): Eudicots: Core Eudicots: Caryophyllales

WEAKLEY'S FLORA (2/8/20):
Opuntia stricta var. stricta FAMILY Cactaceae NEW! Click to go to FSUS key

---
(?) PLANTS NATIONAL DATABASE:
Opuntia stricta FAMILY Cactaceae
INCLUDED WITHIN Flora of North America
Opuntia stricta
SYNONYMOUS WITH Synthesis of the North American Flora (Kartesz, 1999)
Opuntia stricta var. stricta
INCLUDED WITHIN Manual of the Southeastern Flora (Small, 1933, 1938)
Opuntia stricta
COMMON NAME:
Coastal Prickly Pear, Shell Midden Prickly-pear, Erect Prickly-pear
---
To see larger pictures, click or hover over the thumbnails.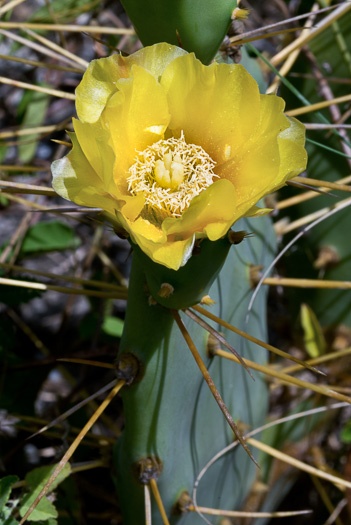 Keith Bradley kab_opuntia_stricta_00142
April Monroe County FL
Valhalla Rock Barren
Spines mostly 0-3 per areole & straight [vs. var. dillenii 0-11 & curved], per Weakley's Flora (2015).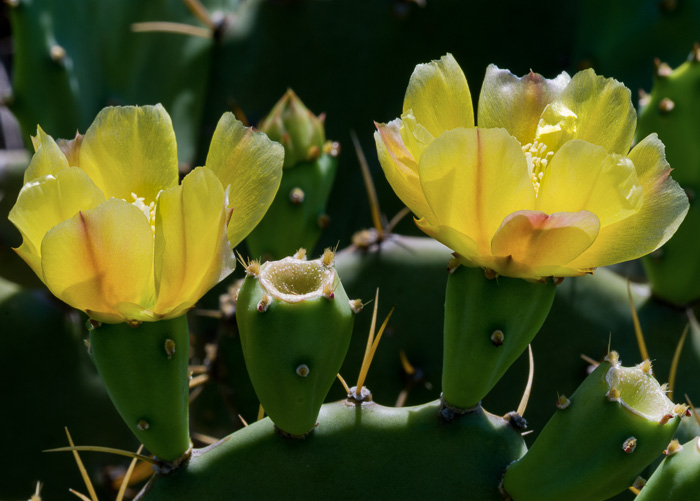 Keith Bradley kab_opuntia_stricta_00168
April Monroe County FL
Inner tepals light yellow throughout; filaments, anthers style & stigma yellow, per Flora of North America.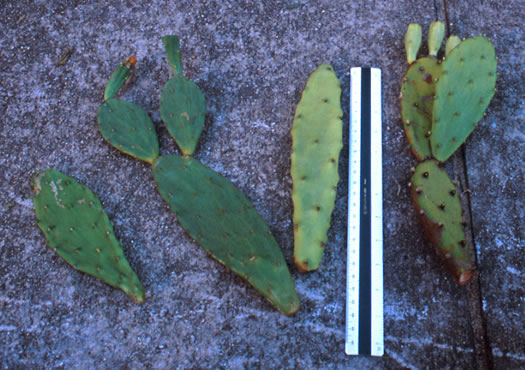 Patrick D. McMillan pdmo_stricta
Month Unknown
Joints narrowly obovate, narrowly elliptic, or oblong, mostly 12-25(35)cm long, per Weakley's Flora.
WEAKLEY'S FLORA (2/8/20):
Opuntia stricta var. stricta FAMILY Cactaceae

(?) PLANTS NATIONAL DATABASE:
Opuntia stricta FAMILY Cactaceae
INCLUDED WITHIN Flora of North America
Opuntia stricta
SYNONYMOUS WITH Synthesis of the North American Flora (Kartesz, 1999)
Opuntia stricta var. stricta
INCLUDED WITHIN Manual of the Southeastern Flora (Small, 1933, 1938)
Opuntia stricta
2687
Shrub
Perennial

Native to the Carolinas & Georgia
Rare
Habitat: Coastal dunes and coastal scrub, shell middens in salt marshes of the Gulf Coast, occasionally in water-logged saline soils of mangroves, per Weakley's Flora


NEW! Click here to see a map from Weakley's Flora of the Southeastern US showing range and abundance.

Click here to see a map showing all occurrences known to SERNEC, a consortium of southeastern herbaria. (Zoom in to see more detail.)
IS THE PLANT "ARMED"?
Cladodes armed with glochids (hair-like spines or short prickles) & spines
LEAVES:
Evergreen
Simple
Alternate

FLOWER:
Spring/Summer
Yellow
Bisexual or sometimes functionally staminate
Radially symmetrical
Numerous tepals (usually)
Numerous stamens (usually)
Inferior ovary

FRUIT:
Winter/Spring/Summer/Fall
Dark pinkish-purple
Berry

TO LEARN MORE about this plant, look it up in a good book!
---