Spermatophytes (seed plants): Angiosperms (flowering plants): Eudicots: Core Eudicots: Asterids: Campanulids: Asterales

WEAKLEY'S FLORA OF THE SOUTHEASTERN US (4/24/22):
Lobelia batsonii FAMILY Campanulaceae Go to FSUS key

---
---
SYNONYMOUS WITH Lobelia batsonii (Campanulaceae), A New Species from the Sandhills of the Carolinas (Pittman & Sorrie, 2020)
Lobelia batsonii
COMMON NAME:
Streamhead Lobelia, Batson's Lobelia, Springhead Lobelia, Sandhills Lobelia
---
To see larger pictures, click or hover over the thumbnails.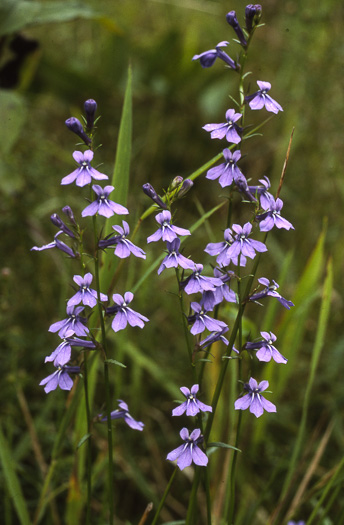 Bruce A. Sorrie bas_lobelia_batsonii1
June Moore County NC
Inflorescence secund. Calyx glabrous, as are corolla tube interior & throat, per Lobelia batsonii (Campanulaceae), A New Species from the Sandhills of the Carolinas (Pittman & Sorrie, 2020).
2881
Forb
Perennial

Habitat: Wet streamheads, white cedar swamps, and seepage slopes, per Weakley's Flora
Native to the Carolinas
Rare (endemic to the Carolina Sandhills Region)


CLICK HERE to see a map, notes, and images from Weakley's Flora of the Southeastern US.

Click here to see a map showing all occurrences known to SERNEC, a consortium of southeastern herbaria. (Zoom in to see more detail.)
DOES THE PLANT HAVE "MILKY SAP"?
Has milky sap (latex)
LEAVES:
Simple
Alternate (basal leaves usually absent or withered at flowering)
Stem leaves sessile; offsets & basal leaves petioled
Margins of stem leaves denticulate to subentire

FLOWER:
Summer/Fall
Pinkish blue to lavender blue with white eye and 2 white guidelines
Bilaterally symmetrical
5-lobed calyx
2-lipped 5-lobed corolla
5 stamens, completely united
Bisexual

Flowers in a terminal raceme

FRUIT:
Summer/Fall
Capsule

TO LEARN MORE about this plant, look it up in a good book!
---
If a search such as "Carex leptalea var. leptalea" doesn't deliver the results you want, try "Carex leptalea".
Or, to minimize chances of a misspelling, try just "Carex le".
Less is more: If "pencil flower" doesn't deliver the results you want, try "pencil".