Spermatophytes (seed plants): Angiosperms (flowering plants): Eudicots: Core Eudicots: Rosids: Fabids: Malpighiales

WEAKLEY'S FLORA (10/20/20):
Viola egglestonii FAMILY Violaceae NEW! Click to go to FSUS key

---
SYNONYMOUS WITH PLANTS NATIONAL DATABASE:
Viola egglestonii FAMILY Violaceae
SYNONYMOUS WITH Viola (Ballard [in prep])
Viola egglestonii
SYNONYMOUS WITH Violaceae of the Southeastern US (McKinney & Russell, 2002)
Viola septemloba ssp. egglestonii
INCLUDED WITHIN Manual of Vascular Plants of NE US & Adjacent Canada (Gleason & Cronquist,1991)
Viola palmata var. pedatifida
SYNONYMOUS WITH (ORTHOGRAPHIC VARIANT) Britton & Brown Illus Flora of Northeast US & adjacent Canada (Gleason, 1952)
Viola egglestoni
COMMON NAME:
Cedar Glade Violet
---
To see larger pictures, click or hover over the thumbnails.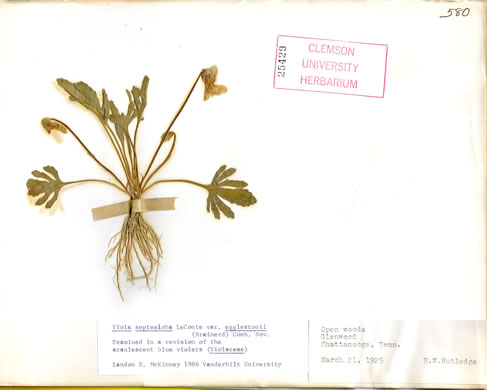 Herbarium of Clemson University h_cu25429
March Marion County TN
Leaf blades about as broad as long, or broader, with 5-9 deep divisions, per Weakley's Flora.
WEAKLEY'S FLORA (10/20/20):
Viola egglestonii FAMILY Violaceae

SYNONYMOUS WITH PLANTS NATIONAL DATABASE:
Viola egglestonii FAMILY Violaceae
SYNONYMOUS WITH Viola (Ballard [in prep])
Viola egglestonii
SYNONYMOUS WITH Violaceae of the Southeastern US (McKinney & Russell, 2002)
Viola septemloba ssp. egglestonii
INCLUDED WITHIN Manual of Vascular Plants of NE US & Adjacent Canada (Gleason & Cronquist,1991)
Viola palmata var. pedatifida
SYNONYMOUS WITH (ORTHOGRAPHIC VARIANT) Britton & Brown Illus Flora of Northeast US & adjacent Canada (Gleason, 1952)
Viola egglestoni
3432
Forb
Perennial

Native to Georgia
Rare
Habitat: calcareous barrens and glades, also in disturbed calcareous sites, per Weakley's Flora


NEW! Click here to see a map from Weakley's Flora of the Southeastern US showing range and abundance.

Click here to see a map showing all occurrences known to SERNEC, a consortium of southeastern herbaria. (Zoom in to see more detail.)
LEAVES:
Simple
Plant acaulescent (without aerial stems)
Leaf blade glabrous or glabrate

FLOWER:
Spring
Blue-violet
Bilaterally symmetrical
Lateral petals bearded, spurred occasionally
5 sepals
5 petals
5 included stamens

FRUIT:
Spring
Capsule

TO LEARN MORE about this plant, look it up in a good book!
---