Spermatophytes (seed plants): Angiosperms (flowering plants): Eudicots: Ranunculales

WEAKLEY'S FLORA (11/30/12):
Ficaria verna ssp. fertilis FAMILY Ranunculaceae

---
INCLUDED WITHIN PLANTS NATIONAL DATABASE:
Ranunculus ficaria var. bulbifera FAMILY Ranunculaceae
SYNONYMOUS WITH Ranunculus ficaria sensu lato (Sell, 1994)
Ranunculus ficaria ssp. ficaria
INCLUDED WITHIN Britton & Brown Illus Flora of Northeast US & adjacent Canada (Gleason, 1952)
Ranunculus ficaria
COMMON NAME:
Fig Buttercup, Lesser Celandine, Pilewort
---
To see larger pictures, click or hover over the thumbnails.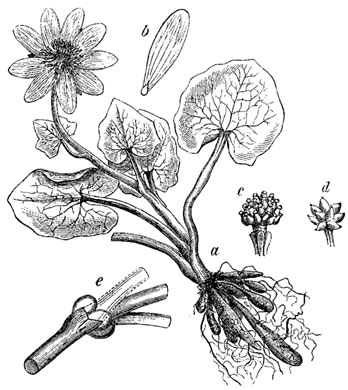 commons.wikimedia.org wik_nsr_slika_028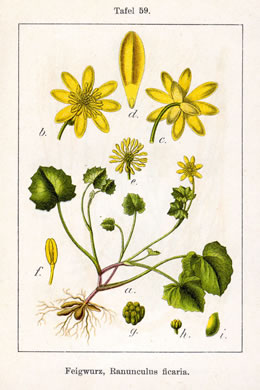 Sturm, Deutschlands Flora in Abbildungen wik_r_ficaria_sturm59
commons.wikimedia.org/wiki/File:Ranunculus_ficaria_Sturm59.jpg
WEAKLEY'S FLORA (11/30/12):
Ficaria verna ssp. fertilis FAMILY Ranunculaceae

INCLUDED WITHIN PLANTS NATIONAL DATABASE:
Ranunculus ficaria var. bulbifera FAMILY Ranunculaceae
SYNONYMOUS WITH Ranunculus ficaria sensu lato (Sell, 1994)
Ranunculus ficaria ssp. ficaria
INCLUDED WITHIN Britton & Brown Illus Flora of Northeast US & adjacent Canada (Gleason, 1952)
Ranunculus ficaria
3673
Forb
Perennial

Non-native: western Europe
Documented growing wild in - - -
Rare
Look for it in disturbed areas, per Weakley's Flora


Click here to see a more detailed map from University of North Carolina at Chapel Hill Herbarium,

or click here to see a map from SERNEC, a consortium of southeastern herbaria.
This plant is causing problems in natural areas outside its native range, according to authorities such as:
LEAVES:
Simple
Basal rosette & alternate

FLOWER:
Spring
Yellow
Bisexual
Radially symmetrical
3-5 sepals
Typically 8 petals (ranging from six to twenty-six)
Numerous stamens
Superior ovary

FRUIT:
Aggregate of achenes

TO LEARN MORE about this plant, look it up in a good book!
---