Spermatophytes (seed plants): Angiosperms (flowering plants): Eudicots: Core Eudicots: Rosids: Fabids: Rosales
Series: Parvifoliae
WEAKLEY'S FLORA OF THE SOUTHEASTERN US (4/24/22):
Crataegus brittonii FAMILY Rosaceae Go to FSUS key

---
SYNONYMOUS WITH Flora of North America north of Mexico, vol. 9 (2014)
Crataegus brittonii
INCLUDING Haws: A Guide to Hawthorns of the Southeastern US (Lance, 2014)
Crataegus uniflora var. brittonii
SYNONYMOUS WITH Floristic Synthesis of North America (Kartesz, 1999)
Crataegus brittonii
SYNONYMOUS WITH Manual of the Southeastern Flora (Small, 1933, 1938)
Crataegus brittonii
INCLUDING Beadle in Flora of the Southeastern US (Small, 1913)
Crataegus rhodella
INCLUDING & INCLUDED WITHIN Beadle in Flora of the Southeastern US (Small, 1913)
Crataegus uniflora
COMMON NAME:
Britton's Hawthorn
---
To see larger pictures, click or hover over the thumbnails.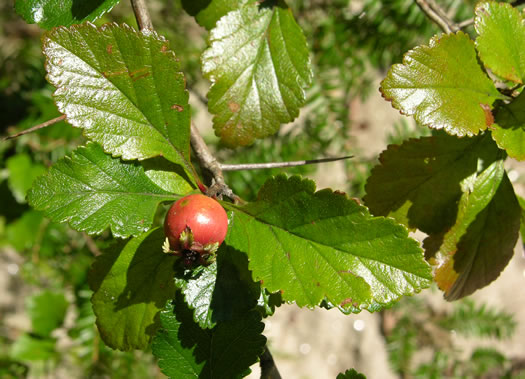 Ron Lance rwlcuniflora_2
September SC
Allied closely to C. uniflora.... Leaf shape often ovate to elliptic, per Weakley's Flora (2020).
WEAKLEY'S FLORA OF THE SOUTHEASTERN US (4/24/22):
Crataegus brittonii FAMILY Rosaceae

SYNONYMOUS WITH Flora of North America north of Mexico, vol. 9
Crataegus brittonii
INCLUDING Haws: A Guide to Hawthorns of the Southeastern US (Lance, 2014)
Crataegus uniflora var. brittonii
SYNONYMOUS WITH Floristic Synthesis of North America (Kartesz, 1999)
Crataegus brittonii
SYNONYMOUS WITH Manual of the Southeastern Flora (Small, 1933, 1938)
Crataegus brittonii
INCLUDING Beadle in Flora of the Southeastern US (Small, 1913)
Crataegus rhodella
INCLUDING & INCLUDED WITHIN Beadle in Flora of the Southeastern US (Small, 1913)
Crataegus uniflora
3868
Shrub
Perennial

Habitat: Thinly forested hills and slopes, bluffs, rock outcrops, disturbed lands, roadsides, streamsides, per Weakley's Flora
Native to the Carolinas & Georgia
Uncommon (rare in GA Piedmont)


CLICK HERE to see a map, notes, and images from Weakley's Flora of the Southeastern US.

Click here to see a map showing all occurrences known to SERNEC, a consortium of southeastern herbaria. (Zoom in to see more detail.)
IS THE PLANT "ARMED"?
Armed with very slender nodal thorns (> 3cm long, about 1mm in diameter)
LEAVES:
Deciduous
Simple
Alternate
Petioles 2-5mm, usually pubescent, sometimes black-glandular, esp in spring

FLOWER:
Spring
White
Radially symmetrical
5-lobed calyx
5 petals
Usually 20 stamens (anthers white, yellow or rarely pink)
Inferior ovary
Bisexual

Inflorescences of 1-6 flowers, usually 1

FRUIT:
Summer/Fall
Green, yellow or red
Pome

TO LEARN MORE about this plant, look it up in a good book!
---
If a search such as "Carex leptalea var. leptalea" doesn't deliver the results you want, try "Carex leptalea".
Or, to minimize chances of a misspelling, try just "Carex le".
Less is more: If "pencil flower" doesn't deliver the results you want, try "pencil".
Or try alternate spellings: If "wooly" doesn't work, try "woolly" or just "wool".