Spermatophytes (seed plants): Angiosperms (flowering plants): Eudicots: Core Eudicots: Rosids: Fabids: Rosales
Series: Intricatae

WEAKLEY'S FLORA (10/20/20):
Crataegus intricata var. fortunata FAMILY Rosaceae

---
(?) INCLUDED WITHIN PLANTS NATIONAL DATABASE:
Crataegus intricata FAMILY Rosaceae
(?) INCLUDED WITHIN Flora of North America
Crataegus padifolia var. padifolia
SYNONYMOUS WITH Haws: A Guide to Hawthorns of the Southeastern US (Lance, 2014)
Crataegus intricata var. fortunata
SYNONYMOUS WITH -
Crataegus fortunata
COMMON NAME:
Yellow-fruited Entangled Hawthorn
---
To see larger pictures, click or hover over the thumbnails.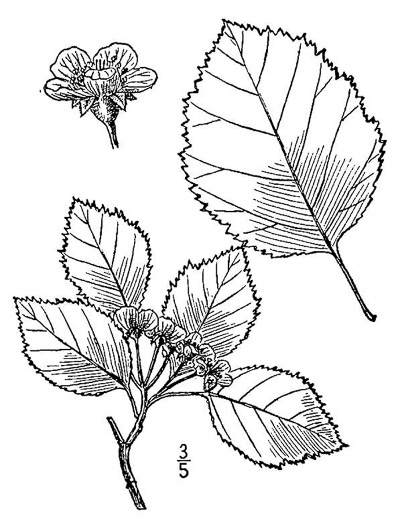 USDA-NRCS PLANTS Database / Britton, N.L., and A. Brown. 1913 pnd_crpa13_001_lvd
Crataegus padifolia
WEAKLEY'S FLORA (10/20/20):
Crataegus intricata var. fortunata FAMILY Rosaceae

(?) INCLUDED WITHIN PLANTS NATIONAL DATABASE:
Crataegus intricata FAMILY Rosaceae
(?) INCLUDED WITHIN Flora of North America
Crataegus padifolia var. padifolia
SYNONYMOUS WITH Haws: A Guide to Hawthorns of the Southeastern US (Lance, 2014)
Crataegus intricata var. fortunata
SYNONYMOUS WITH -
Crataegus fortunata
3871
Shrub
Perennial

Native to North Carolina
Documented growing wild in - NC -
Rare (an endemic)
Look for it in hardwood forest edges, rock outcrops, thickets, per Weakley's Flora


Click here to see a more detailed map from University of North Carolina at Chapel Hill Herbarium,

or click here to see a map from SERNEC, a consortium of southeastern herbaria.
IS THE PLANT "ARMED"?
Armed with slender nodal thorns (> 3cm long, < 2mm in diameter)
LEAVES:
Deciduous
Simple
Alternate
Petioles 1/3-2/3 length of blade, sometimes partially winged, glandular-margined

FLOWER:
Spring
White
Radially symmetrical
5-lobed calyx
5 petals
about 10 stamens (5-15) (anthers pink)
Inferior ovary

Inflorescences of 3-10 flowers

FRUIT:
Summer/Fall
Yellow
Pome

TO LEARN MORE about this plant, look it up in a good book!
---