Spermatophytes (seed plants): Angiosperms (flowering plants): Eudicots: Ranunculales

WEAKLEY'S FLORA OF THE SOUTHEASTERN US (4/24/22):
Clematis species 8 FAMILY Ranunculaceae Go to FSUS key

---
INCLUDED WITHIN PLANTS NATIONAL DATABASE:
Clematis viorna FAMILY Ranunculaceae
SYNONYMOUS WITH in prep.
Clematis warei
INCLUDED WITHIN Floristic Synthesis of North America. BONAP (Kartesz, 2021)
Clematis viorna
INCLUDED WITHIN Flora of North America
Clematis viorna
COMMON NAME:
Ware's Leatherflower, Coosa Leatherflower
---
To see larger pictures, click or hover over the thumbnails.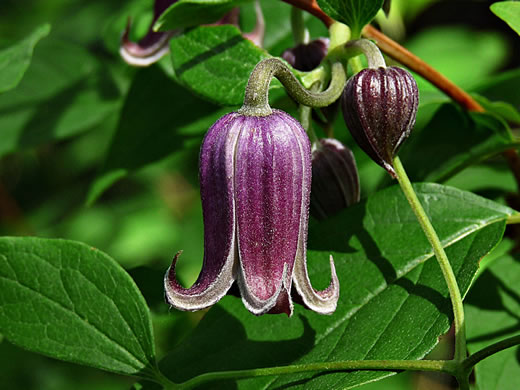 Richard and Teresa Ware rtw_c_sp_leatherflowerz
May
Sepals usually a uniform maroon/burgundy, but sometimes slightly greenish near the tip –Richard Ware
4639
Herbaceous vine
Perennial

Native to Georgia
Uncommon in Piedmont (rare elsewhere)


CLICK HERE to see a map, notes, and images from Weakley's Flora of the Southeastern US.

Click here to see a map showing all occurrences known to SERNEC, a consortium of southeastern herbaria. (Zoom in to see more detail.)
LEAVES:
Odd-pinnately compound: 3 leaflets (usually) (but sometimes simple & 3-lobed)
Opposite

FLOWER:
Spring/Summer/Fall
Sepal exterior dusky purple sepal interior the same color
Radially symmetrical
4 petaloid sepals, calyx broadly urceolate to campanulate
Petals absent
Numerous stamens
Superior ovary

Inflorescence cymose-paniculate (3-7-flowered)

FRUIT:
Spring/Summer/Fall?
Aggregate of achenes

TO LEARN MORE about this plant, look it up in a good book!
---
If a search such as "Carex leptalea var. leptalea" doesn't deliver the results you want, try "Carex leptalea".
Or, to minimize chances of a misspelling, try just "Carex le".
Less is more: If "pencil flower" doesn't deliver the results you want, try "pencil".