Spermatophytes (seed plants): Angiosperms (flowering plants): Eudicots: Core Eudicots: Asterids: Campanulids: Asterales

WEAKLEY'S FLORA (10/20/20):
Solidago mexicana FAMILY Asteraceae

---
SYNONYMOUS WITH PLANTS NATIONAL DATABASE:
Solidago sempervirens var. mexicana FAMILY Asteraceae
SYNONYMOUS WITH Flora of North America
Solidago sempervirens ssp. mexicana
SYNONYMOUS WITH A multivariate study of the Solidago sempervirens complex (Semple et al., 2016a)
Solidago mexicana
INCLUDED WITHIN VASCULAR FLORA OF THE CAROLINAS (Radford, Ahles, & Bell, 1968) 179-49-014:
Solidago sempervirens FAMILY Asteraceae
SYNONYMOUS WITH Manual of the Southeastern Flora (Small, 1933, 1938)
Solidago mexicana
COMMON NAME:
Southern Seaside Goldenrod
---
To see larger pictures, click or hover over the thumbnails.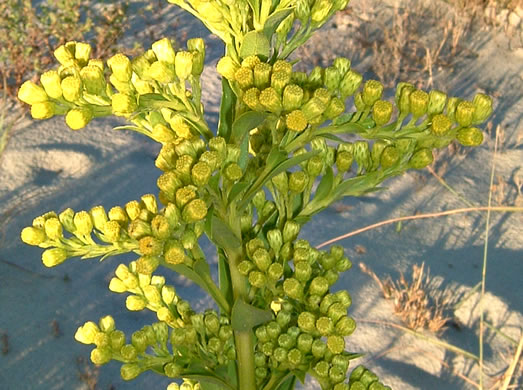 Terry Holdsclaw tdh_s_sempervirens_mexb
October Currituck County NC
Involucres 3-4mm high; rays 7-11; disc flowers ca. 10-16, per Weakley's Flora.
WEAKLEY'S FLORA (10/20/20):
Solidago mexicana FAMILY Asteraceae

SYNONYMOUS WITH PLANTS NATIONAL DATABASE:
Solidago sempervirens var. mexicana FAMILY Asteraceae
SYNONYMOUS WITH Flora of North America
Solidago sempervirens ssp. mexicana
SYNONYMOUS WITH A multivariate study of the Solidago sempervirens complex (Semple et al., 2016a)
Solidago mexicana
INCLUDED WITHIN VASCULAR FLORA OF THE CAROLINAS (Radford, Ahles, & Bell, 1968) 179-49-014:
Solidago sempervirens FAMILY Asteraceae
SYNONYMOUS WITH Manual of the Southeastern Flora (Small, 1933, 1938)
Solidago mexicana
1431
Forb
Perennial

Native to the Carolinas & Georgia
Documented growing wild in GA NC SC
Common
Look for it on coastal dunes, dune slacks, maritime wet grasslands, tidal marshes, per Weakley's Flora


Click here to see a more detailed map from University of North Carolina at Chapel Hill Herbarium,

or click here to see a map from SERNEC, a consortium of southeastern herbaria.

...Wet ...Moist ...Variable
LEAVES:
Simple

Leaves basally disposed (basal & lower stem leaves larger, petiolate, & usually persistent); middle and upper stem leaves smaller & less petiolate

Alternate & basal

FLOWER:
Summer/Fall
Rays: Yellow
Disc: Yellow
Disc flowers bisexual & fertile/ Ray flowers pistillate & fertile
Inferior ovary

Flower heads in elongate secund inflorescences

FRUIT:
Summer/Fall
Achene

TO LEARN MORE about this plant, look it up in a good book!
---