Monilophytes (ferns): Leptosporangiate Ferns (true ferns): Polypodiales

WEAKLEY'S FLORA (4/13/22):
Thelypteris palustris var. pubescens FAMILY Thelypteridaceae NEW! Click to go to FSUS key

---
SYNONYMOUS WITH PLANTS NATIONAL DATABASE:
Thelypteris palustris var. pubescens FAMILY Thelypteridaceae
INCLUDED WITHIN VASCULAR FLORA OF THE CAROLINAS (Radford, Ahles, & Bell, 1968) 011-06-005:
Thelypteris palustris FAMILY Aspidiaceae
SYNONYMOUS WITH Gray's Manual of Botany (Fernald, 1950)
Dryopteris thelypteris var. pubescens
INCLUDED WITHIN Ferns of the Southeastern States (Small, 1938)
Thelypteris thelypteris
To see larger pictures, click or hover over the thumbnails.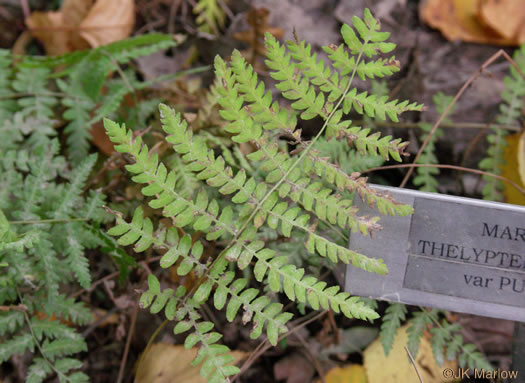 JK Marlow jkm090924_022
September Hancock County ME
Acadia National Park: Wild Gardens of Acadia
Pinnae cut nearly to midvein into rounded or blunt-tipped lobes, per Peterson Field Guide to Ferns of Northeastern and Central North America.
WEAKLEY'S FLORA (4/13/22):
Thelypteris palustris var. pubescens FAMILY Thelypteridaceae

SYNONYMOUS WITH PLANTS NATIONAL DATABASE:
Thelypteris palustris var. pubescens FAMILY Thelypteridaceae
INCLUDED WITHIN VASCULAR FLORA OF THE CAROLINAS (Radford, Ahles, & Bell, 1968) 011-06-005:
Thelypteris palustris FAMILY Aspidiaceae
SYNONYMOUS WITH Gray's Manual of Botany (Fernald, 1950)
Dryopteris thelypteris var. pubescens
INCLUDED WITHIN Ferns of the Southeastern States (Small, 1938)
Thelypteris thelypteris
1506
Fern/Fern ally
Perennial

Native to the Carolinas & Georgia
Common (uncommon in Mountains)
Habitat: bogs, marshes (including freshwater tidal marshes), and bottomland forests, per Weakley's Flora


NEW! Click here to see a map from Weakley's Flora of the Southeastern US showing range and abundance.

Click here to see a map showing all occurrences known to SERNEC, a consortium of southeastern herbaria. (Zoom in to see more detail.)
LEAVES:
Deciduous
1-pinnate-pinnatifid
Leaves closely spaced along a widely creeping rhizome

FRUIT:
Summer/Fall

TO LEARN MORE about this plant, look it up in a good book!
---