Spermatophytes (seed plants): Angiosperms (flowering plants): Eudicots: Core Eudicots: Asterids: Campanulids: Asterales

WEAKLEY'S FLORA (10/20/20):
Solidago spithamaea FAMILY Asteraceae

---
SYNONYMOUS WITH PLANTS NATIONAL DATABASE:
Solidago spithamaea FAMILY Asteraceae
SYNONYMOUS WITH Flora of North America
Solidago spithamaea
SYNONYMOUS WITH (ORTHOGRAPHIC VARIANT) Guide to the Vascular Plants of the Blue Ridge (Wofford, 1989)
Solidago spithamea
SYNONYMOUS WITH VASCULAR FLORA OF THE CAROLINAS (Radford, Ahles, & Bell, 1968) 179-49-007:
Solidago spithamaea FAMILY Asteraceae
SYNONYMOUS WITH Manual of the Southeastern Flora (Small, 1933, 1938)
Solidago spithamaea
COMMON NAME:
Blue Ridge Goldenrod
---
To see larger pictures, click or hover over the thumbnails.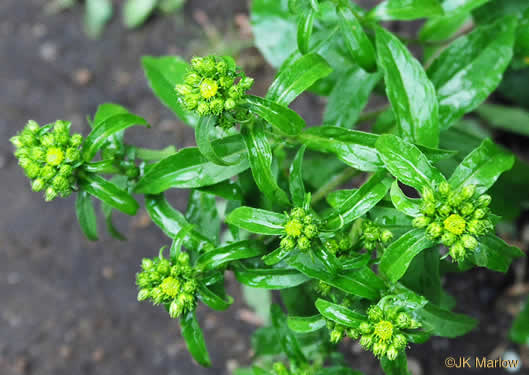 JK Marlow jkm0407w_07
July Mitchell County NC
The Roan Highlands
Flower heads in compact corymbs; stem leaves > 1cm wide, upper not clasping, per Vascular Flora of the Carolinas.
WEAKLEY'S FLORA (10/20/20):
Solidago spithamaea FAMILY Asteraceae

SYNONYMOUS WITH PLANTS NATIONAL DATABASE:
Solidago spithamaea FAMILY Asteraceae
SYNONYMOUS WITH Flora of North America
Solidago spithamaea
SYNONYMOUS WITH (ORTHOGRAPHIC VARIANT) Guide to the Vascular Plants of the Blue Ridge (Wofford, 1989)
Solidago spithamea
SYNONYMOUS WITH VASCULAR FLORA OF THE CAROLINAS (Radford, Ahles, & Bell, 1968) 179-49-007:
Solidago spithamaea FAMILY Asteraceae
SYNONYMOUS WITH Manual of the Southeastern Flora (Small, 1933, 1938)
Solidago spithamaea
1868
Forb
Perennial

Native to North Carolina
Documented growing wild in - NC -
Rare, narrowly endemic to three mountains in NC-TN
Look for it in crevices of sloping to nearly vertical outcrops of high elevation rocky summits on Grandfather Mtn, Hanging Rock Mtn, and Roan Mtn, per Weakley's Flora


Click here to see a more detailed map from University of North Carolina at Chapel Hill Herbarium,

or click here to see a map from SERNEC, a consortium of southeastern herbaria.
LEAVES:
Simple

Leaves basally disposed (basal & lower stem leaves larger, petiolate, & usually persistent); middle and upper stem leaves smaller & less petiolate

Alternate & basal

FLOWER:
Summer/Fall
Rays: Yellow
Disc: Yellow
Disc flowers bisexual & fertile/ Ray flowers pistillate & fertile
Inferior ovary

Flower heads in corymbose inflorescences

FRUIT:
Summer/Fall
Achene

TO LEARN MORE about this plant, look it up in a good book!
---