Spermatophytes (seed plants): Angiosperms (flowering plants): Monocots: Liliales

WEAKLEY'S FLORA (4/24/22):
Stenanthium leimanthoides FAMILY Melanthiaceae NEW! Click to go to FSUS key

---
INCLUDED WITHIN PLANTS NATIONAL DATABASE:
Zigadenus leimanthoides FAMILY Liliaceae
INCLUDED WITHIN Flora of North America
Zigadenus densus
INCLUDED WITHIN VASCULAR FLORA OF THE CAROLINAS (Radford, Ahles, & Bell, 1968) 041-22-004:
Zigadenus leimanthoides FAMILY Liliaceae
INCLUDED WITHIN & ORTHOGRAPHIC VARIANT Britton & Brown Illus Flora of Northeast US & adjacent Canada (Gleason, 1952)
Zygadenus leimanthoides
INCLUDED WITHIN Manual of the Southeastern Flora (Small, 1933, 1938)
Oceanorus leimanthoides
COMMON NAME:
Pinebarrens Death-camas
---
To see larger pictures, click or hover over the thumbnails.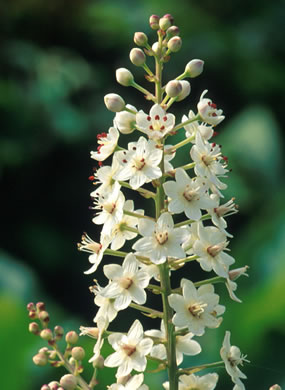 Patrick D. McMillan pdmzleimanthoides_0
Month Unknown
Flowers in a dense panicle tipped with a 3-4" raceme, per Wildflowers of Tennessee, the Ohio Valley, and the Southern Appalachians.
WEAKLEY'S FLORA (4/24/22):
Stenanthium leimanthoides FAMILY Melanthiaceae

INCLUDED WITHIN PLANTS NATIONAL DATABASE:
Zigadenus leimanthoides FAMILY Liliaceae
INCLUDED WITHIN Flora of North America
Zigadenus densus
INCLUDED WITHIN VASCULAR FLORA OF THE CAROLINAS (Radford, Ahles, & Bell, 1968) 041-22-004:
Zigadenus leimanthoides FAMILY Liliaceae
INCLUDED WITHIN & ORTHOGRAPHIC VARIANT Britton & Brown Illus Flora of Northeast US & adjacent Canada (Gleason, 1952)
Zygadenus leimanthoides
INCLUDED WITHIN Manual of the Southeastern Flora (Small, 1933, 1938)
Oceanorus leimanthoides
2370
Forb
Perennial

Native to North Carolina & Georgia
Rare
Habitat: High elevation rock outcrops, shrub balds, seepage areas at high elevations, fens, bogs in the Coastal Plain, per Weakley's Flora


NEW! Click here to see a map from Weakley's Flora of the Southeastern US showing range and abundance.

Click here to see a map showing all occurrences known to SERNEC, a consortium of southeastern herbaria. (Zoom in to see more detail.)
LEAVES:
Simple
Usually basal

FLOWER:
Summer
White
Usually bisexual
Radially symmetrical
6 persistent tepals
6 stamens
Ovary partly inferior

Inflorescence a panicle

FRUIT:
Summer/Fall
Capsule

TO LEARN MORE about this plant, look it up in a good book!
---