Spermatophytes (seed plants): Angiosperms (flowering plants): Monocots: Commelinids: Commelinales

WEAKLEY'S FLORA (10/20/20):
Piaropus crassipes FAMILY Pontederiaceae

---
SYNONYMOUS WITH PLANTS NATIONAL DATABASE:
Eichhornia crassipes FAMILY Pontederiaceae
SYNONYMOUS WITH Total evidence phylogeny of Pontederiaceae (Commelinales) ... (Pellegrini, et al., 2018)
Pontederia crassipes
SYNONYMOUS WITH VASCULAR FLORA OF THE CAROLINAS (Radford, Ahles, & Bell, 1968) 039-01-001:
Eichhornia crassipes FAMILY Pontederiaceae
SYNONYMOUS WITH Manual of the Southeastern Flora (Small, 1933, 1938)
Piaropus crassipes
COMMON NAME:
Common Water-hyacinth
---
To see larger pictures, click or hover over the thumbnails.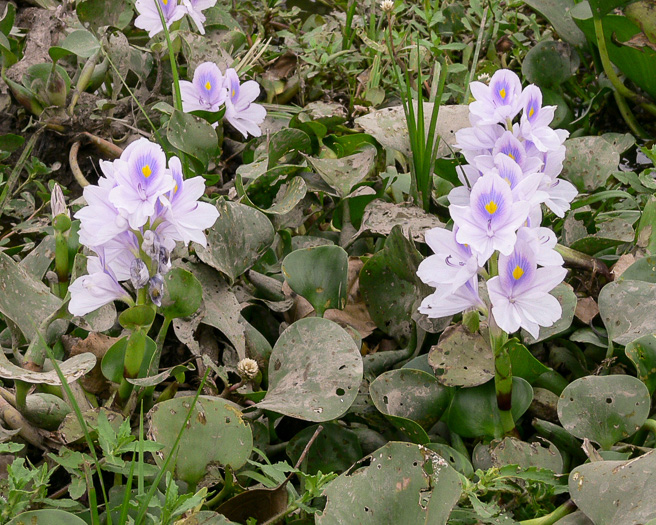 Bruce A. Sorrie bas_e_crassipes1_bol
July Bolivia
Leaves spade-shaped and curled upward on sides. Roots feathery, floating, per Field Guide to Aquatic Plants of Alabama.

COMPARE aquatic plants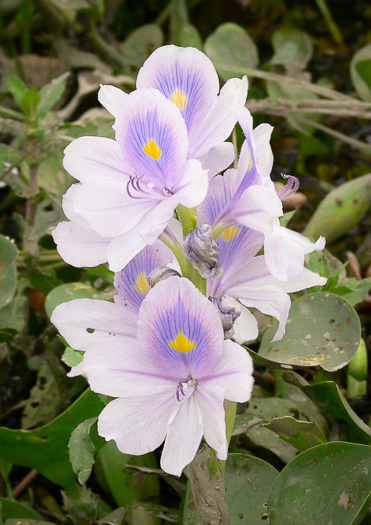 Bruce A. Sorrie bas_e_crassipes2_bol
July Bolivia
Perianth 6-parted, upper segment larger with yellow blotch at center, per Flora of China.
WEAKLEY'S FLORA (10/20/20):
Piaropus crassipes FAMILY Pontederiaceae

SYNONYMOUS WITH PLANTS NATIONAL DATABASE:
Eichhornia crassipes FAMILY Pontederiaceae
SYNONYMOUS WITH Total evidence phylogeny of Pontederiaceae (Commelinales) ... (Pellegrini, et al., 2018)
Pontederia crassipes
SYNONYMOUS WITH VASCULAR FLORA OF THE CAROLINAS (Radford, Ahles, & Bell, 1968) 039-01-001:
Eichhornia crassipes FAMILY Pontederiaceae
SYNONYMOUS WITH Manual of the Southeastern Flora (Small, 1933, 1938)
Piaropus crassipes
2512
Floating aquatic (the roots floating); Forb
Perennial

Non-native: tropical America
Documented growing wild in GA NC SC
Uncommon in Coastal Plain but can be an aggressive aquatic weed (rare in Piedmont)
Look for it in ponds, ditches, sluggish water, per Weakley's Flora


Click here to see a more detailed map from University of North Carolina at Chapel Hill Herbarium,

or click here to see a map from SERNEC, a consortium of southeastern herbaria.
This plant is causing problems in natural areas outside its native range, according to authorities such as:
LEAVES:
Simple
Basal rosette

FLOWER:
Summer/Fall
Blue, light purple
Bisexual
4 petaloid perianth segments, in two whorls
6 stamens (3 long, 3 short)
Superior ovary

Inflorescence a spike

FRUIT:
Summer/Fall
Capsule

TO LEARN MORE about this plant, look it up in a good book!
---