Spermatophytes (seed plants): Angiosperms (flowering plants): Monocots: Alismatales

WEAKLEY'S FLORA (10/20/20):
Sagittaria isoetiformis FAMILY Alismataceae NEW! Click to go to FSUS key

---
SYNONYMOUS WITH PLANTS NATIONAL DATABASE:
Sagittaria isoetiformis FAMILY Alismataceae
SYNONYMOUS WITH Flora of North America
Sagittaria isoetiformis
INCLUDED WITHIN (MISAPPLIED) VASCULAR FLORA OF THE CAROLINAS (Radford, Ahles, & Bell, 1968) 027-03-006:
Sagittaria teres FAMILY Alismataceae
SYNONYMOUS WITH Manual of the Southeastern Flora (Small, 1933, 1938)
Sagittaria isoetiformis
COMMON NAME:
Depression Meadow Arrowhead, Quillwort Arrowhead
---
To see larger pictures, click or hover over the thumbnails.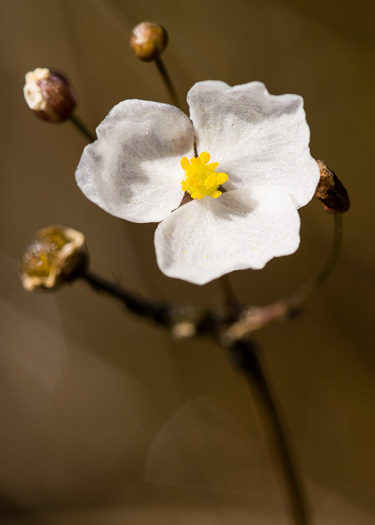 Keith Bradley kab_s_isoetiformis_4735
October Scotland County NC
North Carolina Sandhills Gamelands
Flowers to 1.3 cm diameter; filaments shorter than anthers, per Flora of North America.

COMPARE aquatic plants
WEAKLEY'S FLORA (10/20/20):
Sagittaria isoetiformis FAMILY Alismataceae

SYNONYMOUS WITH PLANTS NATIONAL DATABASE:
Sagittaria isoetiformis FAMILY Alismataceae
SYNONYMOUS WITH Flora of North America
Sagittaria isoetiformis
INCLUDED WITHIN (MISAPPLIED) VASCULAR FLORA OF THE CAROLINAS (Radford, Ahles, & Bell, 1968) 027-03-006:
Sagittaria teres FAMILY Alismataceae
SYNONYMOUS WITH Manual of the Southeastern Flora (Small, 1933, 1938)
Sagittaria isoetiformis
3065
Emergent aquatic that also has submerged leaves (rooted); Forb
Perennial
Monoecious or polygamo-monoecious

Native to the Carolinas & Georgia
Rare in GA-NC-SC
Habitat: Pineland ponds, clay-based Carolina bays, other seasonally flooded depressions, per Weakley's Flora


NEW! Click here to see a map from Weakley's Flora of the Southeastern US showing range and abundance.

Click here to see a map showing all occurrences known to SERNEC, a consortium of southeastern herbaria. (Zoom in to see more detail.)
LEAVES:
Simple
Basal
Blades of emersed leaves linear (< 3mm wide, rarely to 4mm) or phyllodial

RHIZOMES? STOLONS?
Rhizomes absent; stolons present; corms present
FLOWER:
Summer/Fall
White
Unisexual
3-merous
3 sepals
3 petals
Numerous stamens in staminate flowers
Superior ovary

FRUIT:
Summer/Fall
Achene

TO LEARN MORE about this plant, look it up in a good book!
---