Spermatophytes (seed plants): Angiosperms (flowering plants): Eudicots: Core Eudicots: Caryophyllales

WEAKLEY'S FLORA (4/24/22):
Persicaria amphibia ssp. laevimarginata FAMILY Polygonaceae NEW! Click to go to FSUS key

---
SYNONYMOUS WITH PLANTS NATIONAL DATABASE:
Polygonum amphibium var. stipulaceum FAMILY Polygonaceae
INCLUDED WITHIN Flora of North America
Persicaria amphibia
INCLUDED WITHIN VASCULAR FLORA OF THE CAROLINAS (Radford, Ahles, & Bell, 1968) 063-04-006:
Polygonum coccineum FAMILY Polygonaceae
(?) Manual of the Southeastern Flora (Small, 1933, 1938)
Persicaria muhlenbergii
COMMON NAME:
Water Smartweed, Scarlet Smartweed
---
To see larger pictures, click or hover over the thumbnails.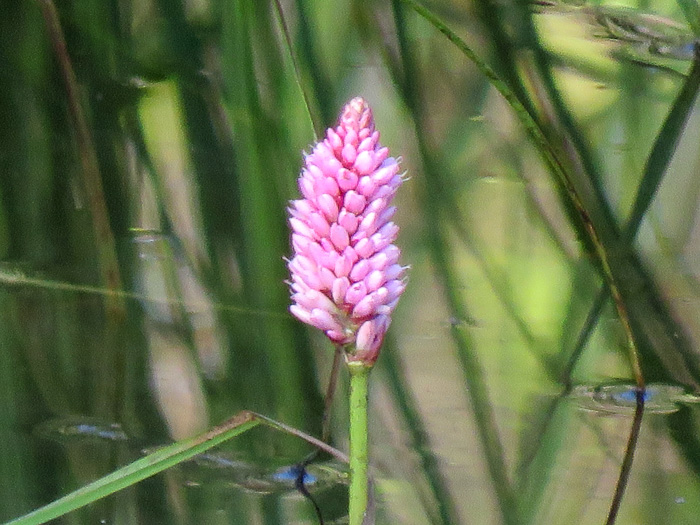 bas_p_amphibia2_bjs
August St. Louis County MN
Its adaptations to differing water conditions make it quite variable, per Wildflowers of the Southern Mountains.

COMPARE aquatic plants
WEAKLEY'S FLORA (4/24/22):
Persicaria amphibia ssp. laevimarginata FAMILY Polygonaceae

SYNONYMOUS WITH PLANTS NATIONAL DATABASE:
Polygonum amphibium var. stipulaceum FAMILY Polygonaceae
INCLUDED WITHIN Flora of North America
Persicaria amphibia
INCLUDED WITHIN VASCULAR FLORA OF THE CAROLINAS (Radford, Ahles, & Bell, 1968) 063-04-006:
Polygonum coccineum FAMILY Polygonaceae
(?) Manual of the Southeastern Flora (Small, 1933, 1938)
Persicaria muhlenbergii
3188
Aquatic with submersed or floating leaves, or terrestrial; Forb
Perennial

Native to the Carolinas
Rare
Habitat: marshes, wet disturbed areas, per Weakley's Flora


NEW! Click here to see a map from Weakley's Flora of the Southeastern US showing range and abundance.

Click here to see a map showing all occurrences known to SERNEC, a consortium of southeastern herbaria. (Zoom in to see more detail.)
IS THE PLANT "ARMED"?
Stems, petioles and leaves unarmed
LEAVES:
Simple
Alternate

RHIZOMES? STOLONS?
Rhizomatous, forming clonal colonies
FLOWER:
Summer/Fall
Deep pink/ Red
Bisexual, or often functionally unisexual
5-parted calyx
Petals absent
Superior ovary

Inflorescence spikelike, uninterrupted or interrupted proximally

FRUIT:
Summer/Fall
Light brown
Nutlet

TO LEARN MORE about this plant, look it up in a good book!
---