Spermatophytes (seed plants): Angiosperms (flowering plants): Eudicots: Core Eudicots: Asterids: Lamiids: Gentianales

WEAKLEY'S FLORA (11/30/12):
Matelea obliqua FAMILY Apocynaceae

---
SYNONYMOUS WITH PLANTS NATIONAL DATABASE:
Matelea obliqua FAMILY Asclepiadaceae
SYNONYMOUS WITH VASCULAR FLORA OF THE CAROLINAS (Radford, Ahles, & Bell, 1968) 157-03-003:
Matelea obliqua FAMILY Asclepiadaceae
SYNONYMOUS WITH Britton & Brown Illus Flora of Northeast US & adjacent Canada (Gleason, 1952)
Gonolobus obliquus
INCLUDING Manual of the Southeastern Flora (Small, 1933, 1938)
Odontostephana shortii
COMMON NAME:
Northern Spinypod, Limerock Milkvine, Climbing Milkvine
---
To see larger pictures, click or hover over the thumbnails.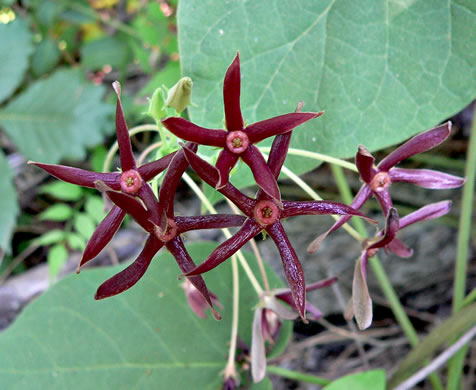 Richard and Teresa Ware rtw_m_obliqua_climb
June Floyd County GA
Corolla lobes (3.2-) 4.0-6.2x as long as wide, the widest part at the sinus, per Weakley's Flora (2012).

COMPARE Anglepod and Spinypod (Climbing Milkweed)
WEAKLEY'S FLORA (11/30/12):
Matelea obliqua FAMILY Apocynaceae

SYNONYMOUS WITH PLANTS NATIONAL DATABASE:
Matelea obliqua FAMILY Asclepiadaceae
SYNONYMOUS WITH VASCULAR FLORA OF THE CAROLINAS (Radford, Ahles, & Bell, 1968) 157-03-003:
Matelea obliqua FAMILY Asclepiadaceae
SYNONYMOUS WITH Britton & Brown Illus Flora of Northeast US & adjacent Canada (Gleason, 1952)
Gonolobus obliquus
INCLUDING Manual of the Southeastern Flora (Small, 1933, 1938)
Odontostephana shortii
3308
Herbaceous vine
Perennial

Native to North Carolina & Georgia
Documented growing wild in GA NC -
Rare
Look for it in forests, woodlands, or thickets over calcareous rocks, per Weakley's Flora


Click here to see a more detailed map from University of North Carolina at Chapel Hill Herbarium,

or click here to see a map from SERNEC, a consortium of southeastern herbaria.
DOES THE PLANT HAVE "MILKY SAP"?
Has milky sap (latex)
IS THE PLANT "ARMED"?
Follicle surface rough, with small sharp projections ("muricate")
LEAVES:
Simple
Usually opposite

FLOWER:
Summer
Rose/ Brownish-rose rarely cream
Bisexual
Radially symmetrical
5-merous
5-lobed rotate corolla
Superior ovary

FRUIT:
Summer/Fall
Follicle

TO LEARN MORE about this plant, look it up in a good book!
---