Spermatophytes (seed plants): Angiosperms (flowering plants): Eudicots: Core Eudicots: Rosids: Fabids: Malpighiales

WEAKLEY'S FLORA (10/20/20):
Viola subsinuata var. subsinuata FAMILY Violaceae

---
(?) PLANTS NATIONAL DATABASE:
Viola triloba var. dilatata FAMILY Violaceae
INCLUDING Viola (Ballard [in prep])
Viola palmata var. dilatata
SYNONYMOUS WITH Viola (Ballard [in prep])
Viola subsinuata
SYNONYMOUS WITH Violaceae of the Southeastern US (McKinney & Russell, 2002)
Viola subsinuata
INCLUDED WITHIN Manual of Vascular Plants of NE US & Adjacent Canada (Gleason & Cronquist,1991)
Viola palmata var. palmata
COMMON NAME:
Early Blue Violet, Wavyleaf Violet, Wood Violet
---
To see larger pictures, click or hover over the thumbnails.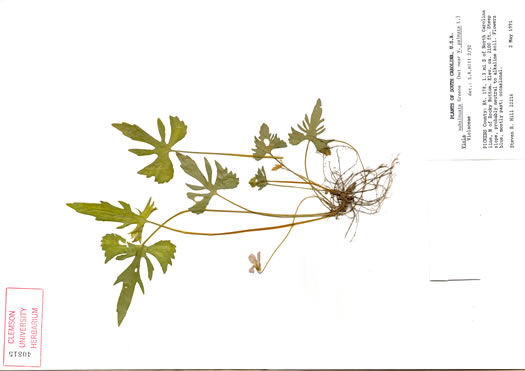 Herbarium of Clemson University h_cu40815
May Pickens County SC
All leaf blades deeply divided (early ones NOT ovate, rotund, or cordate), per Weakley's Flora.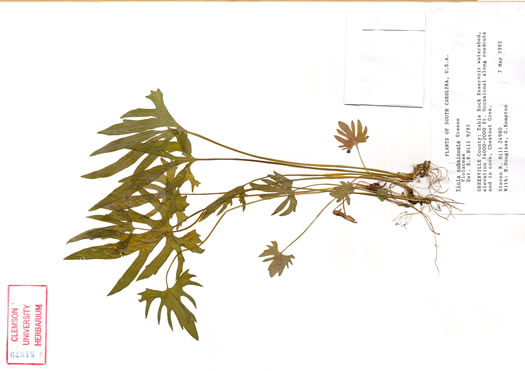 Herbarium of Clemson University h_cu51879
May Greenville County SC
Table Rock Reservoir watershed
Many leaves have 9+ lobes, though the middle is almost always the widest, per Vascular Plants of North Carolina.
WEAKLEY'S FLORA (10/20/20):
Viola subsinuata var. subsinuata FAMILY Violaceae

(?) PLANTS NATIONAL DATABASE:
Viola triloba var. dilatata FAMILY Violaceae
INCLUDING Viola (Ballard [in prep])
Viola palmata var. dilatata
SYNONYMOUS WITH Viola (Ballard [in prep])
Viola subsinuata
SYNONYMOUS WITH Violaceae of the Southeastern US (McKinney & Russell, 2002)
Viola subsinuata
INCLUDED WITHIN Manual of Vascular Plants of NE US & Adjacent Canada (Gleason & Cronquist,1991)
Viola palmata var. palmata
3441
Forb
Perennial

Native to the Carolinas & Georgia
Documented growing wild in GA NC SC
Common in Mountains (uncommon in SC)
Look for it in rich, dry-mesic and dry upland forests, probably associated with mafic rocks, per Weakley's Flora


Click here to see a more detailed map from University of North Carolina at Chapel Hill Herbarium,

or click here to see a map from SERNEC, a consortium of southeastern herbaria.
LEAVES:
Simple
Plant acaulescent (without aerial stems)
Leaf blade pubescent

FLOWER:
Spring
Blue-violet
Bilaterally symmetrical
Lateral petals bearded
5 sepals
5 petals
5 included stamens

FRUIT:
Spring/Summer
Capsule

TO LEARN MORE about this plant, look it up in a good book!
---