Spermatophytes (seed plants): Angiosperms (flowering plants): Eudicots: Core Eudicots: Rosids: Fabids: Rosales

WEAKLEY'S FLORA OF THE SOUTHEASTERN US (4/14/23):
Prunus mahaleb FAMILY Rosaceae Go to FSUS key

---
SYNONYMOUS WITH PLANTS NATIONAL DATABASE:
Prunus mahaleb FAMILY Rosaceae
SYNONYMOUS WITH Floristic Synthesis of North America. BONAP (Kartesz, 2021)
Prunus mahaleb
SYNONYMOUS WITH Flora of North America north of Mexico, vol. 9 (2014)
Prunus mahaleb
SYNONYMOUS WITH Floristic Synthesis of North America (Kartesz, 1999)
Prunus mahaleb
SYNONYMOUS WITH VASCULAR FLORA OF THE CAROLINAS (Radford, Ahles, & Bell, 1968) 097-22-009:
Prunus mahaleb FAMILY Rosaceae
SYNONYMOUS WITH -
Cerasus mahaleb
COMMON NAME:
Mahaleb Cherry, Perfumed Cherry, St. Lucie Cherry, Rock Cherry
---
To see larger pictures, click or hover over the thumbnails.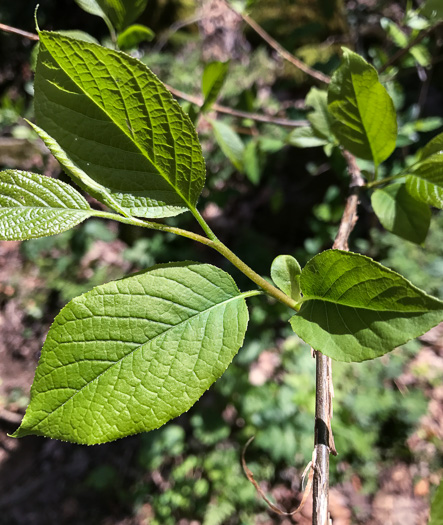 JK Marlow jkm210401_9096
April Polk County NC
Leaves obovate to suborbicular, crenate, the teeth gland-tipped, per Vascular Flora of the Carolinas (Radford, Ahles, & Bell, 1968).
3823
Shrub; Tree
Perennial

Habitat: Bluffs, glades, stream banks, fencerows, disturbed forests, old fields, pastures, roadsides, old homesites, and other disturbed areas, per Weakley's Flora
Non-native: Europe
Rare


CLICK HERE to see a map, notes, and images from Weakley's Flora of the Southeastern US.

Click here to see a map showing all occurrences known to SERNEC, a consortium of southeastern herbaria. (Zoom in to see more detail.)
This plant may be causing problems in natural areas outside its native range, according to authorities such as:
LEAVES:
Simple
Alternate
Margins crenate

FLOWER:
Spring
White
Radially symmetrical
5 united sepals
5 petals
Many stamens
Superior ovary

Flowers in racemes

FRUIT:
Summer
Dark red to black
Drupe

TO LEARN MORE about this plant, look it up in a good book!
---
If a search such as "Carex leptalea var. leptalea" doesn't deliver the results you want, try "Carex leptalea".
Or, to minimize chances of a misspelling, try just "Carex le".
Less is more: If "pencil flower" doesn't deliver the results you want, try "pencil".
Or try alternate spellings: If "wooly" doesn't work, try "woolly" or just "wool".