Spermatophytes (seed plants): Angiosperms (flowering plants): Monocots: Commelinids: Poales

WEAKLEY'S FLORA (5/21/15):
Coleataenia anceps ssp. rhizomata FAMILY Poaceae NEW! Click to go to FSUS key

---
INCLUDED WITHIN PLANTS NATIONAL DATABASE:
Panicum anceps FAMILY Poaceae
SYNONYMOUS WITH Flora of North America
Panicum anceps ssp. rhizomatum
SYNONYMOUS WITH VASCULAR FLORA OF THE CAROLINAS (Radford, Ahles, & Bell, 1968) 029-81-001b:
Panicum anceps var. rhizomatum FAMILY Poaceae
SYNONYMOUS WITH Manual of the Grasses of the US (Hitchcock & Chase, 1950)
Panicum rhizomatum
COMMON NAME:
Small Beaked Panicum, Small Beaked Panicgrass
---
To see larger pictures, click or hover over the thumbnails.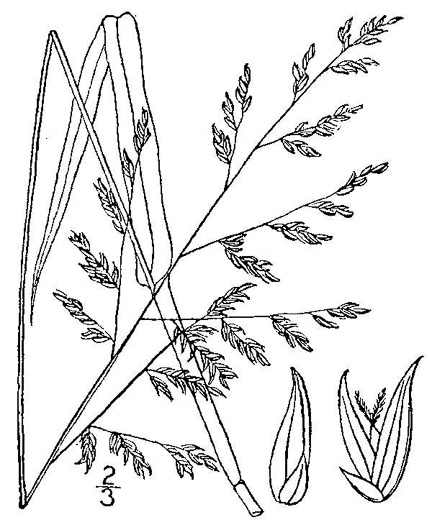 USDA-NRCS PLANTS Database / Britton, N.L., and A. Brown. 1913 pnd_paan_001_lvd
The leaves of ssp. rhizomata tend to be hairier than those of ssp. anceps, per Weakley's Flora (2015).
WEAKLEY'S FLORA (5/21/15):
Coleataenia anceps ssp. rhizomata FAMILY Poaceae

INCLUDED WITHIN PLANTS NATIONAL DATABASE:
Panicum anceps FAMILY Poaceae
SYNONYMOUS WITH Flora of North America
Panicum anceps ssp. rhizomatum
SYNONYMOUS WITH VASCULAR FLORA OF THE CAROLINAS (Radford, Ahles, & Bell, 1968) 029-81-001b:
Panicum anceps var. rhizomatum FAMILY Poaceae
SYNONYMOUS WITH Manual of the Grasses of the US (Hitchcock & Chase, 1950)
Panicum rhizomatum
3899
Grass, Sedge, or Rush
Perennial

Native to the Carolinas & Georgia
Habitat: Moist to dry sandy or loamy pinelands, maritime forests, ditches, per Weakley's Flora


NEW! Click here to see a map from Weakley's Flora of the Southeastern US showing range and abundance.

Click here to see a map showing all occurrences known to SERNEC, a consortium of southeastern herbaria. (Zoom in to see more detail.)
LEAVES:
Simple
Basal & alternate, 2-ranked

FLOWER:
Summer/Fall
Spikelets light green

FRUIT:
Summer/Fall
Grain purplish, blackish
Grain

TO LEARN MORE about this plant, look it up in a good book!
---