Spermatophytes (seed plants): Angiosperms (flowering plants): Monocots: Commelinids: Poales

WEAKLEY'S FLORA (5/21/15):
Dichanthelium mattamuskeetense FAMILY Poaceae

---
INCLUDED WITHIN PLANTS NATIONAL DATABASE:
Dichanthelium dichotomum var. dichotomum FAMILY Poaceae
INCLUDED WITHIN Flora of North America
Dichanthelium dichotomum ssp. mattamuskeetense
INCLUDED WITHIN VASCULAR FLORA OF THE CAROLINAS (Radford, Ahles, & Bell, 1968) 029-81-045?:
Panicum dichotomum FAMILY Poaceae
INCLUDING Manual of the Grasses of the US (Hitchcock & Chase, 1950)
Panicum mattamuskeetense
COMMON NAME:
Mattamuskeet Witchgrass
---
To see larger pictures, click or hover over the thumbnails.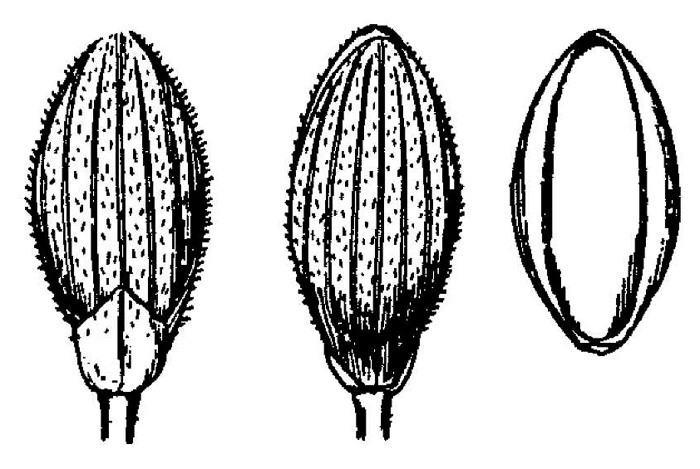 USDA-NRCS PLANTS Database / Hitchcock, A.S. (rev. A. Chase). 1950 pnd_pacl6_001_lhd
Panicum clutei < Dichanthelium mattamuskeetense
WEAKLEY'S FLORA (5/21/15):
Dichanthelium mattamuskeetense FAMILY Poaceae

INCLUDED WITHIN PLANTS NATIONAL DATABASE:
Dichanthelium dichotomum var. dichotomum FAMILY Poaceae
INCLUDED WITHIN Flora of North America
Dichanthelium dichotomum ssp. mattamuskeetense
INCLUDED WITHIN VASCULAR FLORA OF THE CAROLINAS (Radford, Ahles, & Bell, 1968) 029-81-045?:
Panicum dichotomum FAMILY Poaceae
INCLUDING Manual of the Grasses of the US (Hitchcock & Chase, 1950)
Panicum mattamuskeetense
3906
Grass, Sedge, or Rush
Perennial

Native to the Carolinas
Documented growing wild in - NC SC
Common in NC, uncommon in SC
Look for it in wet savannas, meadows, borders of pocosin shrub swamps, thickets, per Weakley's Flora


Click here to see a more detailed map from University of North Carolina at Chapel Hill Herbarium,

or click here to see a map from SERNEC, a consortium of southeastern herbaria.
LEAVES:
Simple
Alternate, 2-ranked, and often a basal rosette of overwintering leaves

FLOWER:
Spring/Summer/Fall

Early-season ("spring") panicles terminal; later "autumnal" panicles are lateral

FRUIT:
Spring/Summer/Fall
Grain

TO LEARN MORE about this plant, look it up in a good book!
---