Spermatophytes (seed plants): Angiosperms (flowering plants): Monocots: Alismatales

WEAKLEY'S FLORA (10/20/20):
Najas guadalupensis var. guadalupensis FAMILY Hydrocharitaceae NEW! Click to go to FSUS key

---
INCLUDED WITHIN PLANTS NATIONAL DATABASE:
Najas guadalupensis ssp. guadalupensis FAMILY Najadaceae
INCLUDED WITHIN VASCULAR FLORA OF THE CAROLINAS (Radford, Ahles, & Bell, 1968) 025-01-001:
Najas guadalupensis FAMILY Najadaceae
INCLUDED WITHIN & ORTHOGRAPHIC VARIANT -
Naias guadelupensis
COMMON NAME:
Southern Naiad, Southern Waternymph
---
To see larger pictures, click or hover over the thumbnails.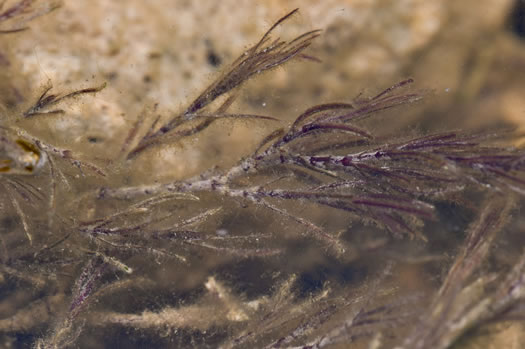 Keith Bradley kab_n_guadalupensis_74711
June Miami-Dade County FL
South Dade Wetlands
Leaves at many nodes along the stem, per Weakley's Flora (2015).

COMPARE aquatic plants
3992
Submersed aquatic (rooted); Forb
Annual
Monoecious

Native to the Carolinas & Georgia
Common (uncommon in Mountains)
Habitat: Lakes, rivers, impoundments, per Weakley's Flora


NEW! Click here to see a map from Weakley's Flora of the Southeastern US showing range and abundance.

Click here to see a map showing all occurrences known to SERNEC, a consortium of southeastern herbaria. (Zoom in to see more detail.)
IS THE PLANT "ARMED"?
Leaf margins minutely serrulate, with 50-100 spinulose teeth per leaf side (not evident at 10x magnification)
LEAVES:
Simple
Leaves nearly opposite or appearing whorled

FLOWER:
Summer/Fall
Unisexual
Perianth absent
1 stamen in staminate flowers
Superior ovary

Flowers in leaf axils

FRUIT:
Greenish
Achene

TO LEARN MORE about this plant, look it up in a good book!
---