Spermatophytes (seed plants): Angiosperms (flowering plants): Monocots: Commelinids: Poales

WEAKLEY'S FLORA (10/20/20):
Carex striata var. striata FAMILY Cyperaceae NEW! Click to go to FSUS key

---
SYNONYMOUS WITH PLANTS NATIONAL DATABASE:
Carex striata var. striata FAMILY Cyperaceae
INCLUDED WITHIN VASCULAR FLORA OF THE CAROLINAS (Radford, Ahles, & Bell, 1968) 030-17-094:
Carex walteriana FAMILY Cyperaceae
SYNONYMOUS WITH Britton & Brown Illus Flora of Northeast US & adjacent Canada (Gleason, 1952)
Carex walteriana var. walteriana
INCLUDED WITHIN Manual of the Southeastern Flora (Small, 1933, 1938)
Carex walteriana
COMMON NAME:
Walter's Sedge, Pocosin Sedge
---
To see larger pictures, click or hover over the thumbnails.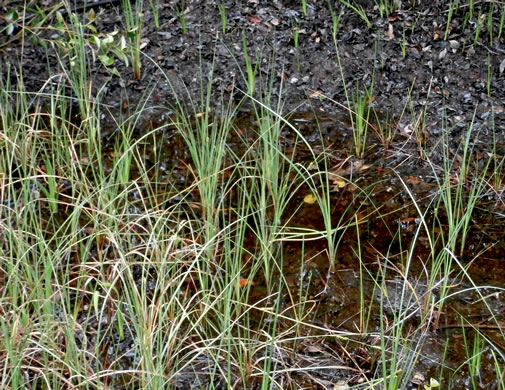 JK Marlow jkm160416_261
April Lowndes County GA
Forming large clonal colonies by rhizomes, per Weakley's Flora (2015).
WEAKLEY'S FLORA (10/20/20):
Carex striata var. striata FAMILY Cyperaceae

SYNONYMOUS WITH PLANTS NATIONAL DATABASE:
Carex striata var. striata FAMILY Cyperaceae
INCLUDED WITHIN VASCULAR FLORA OF THE CAROLINAS (Radford, Ahles, & Bell, 1968) 030-17-094:
Carex walteriana FAMILY Cyperaceae
SYNONYMOUS WITH Britton & Brown Illus Flora of Northeast US & adjacent Canada (Gleason, 1952)
Carex walteriana var. walteriana
INCLUDED WITHIN Manual of the Southeastern Flora (Small, 1933, 1938)
Carex walteriana
4009
Grass, Sedge, or Rush
Perennial
Monoecious

Native to South Carolina & Georgia
Documented growing wild in GA - SC
Uncommon in Coastal Plain, rare in Mountains
Habitat: pocosins, limesink ponds, small depression ponds, clay-based Carolina bays, acid peaty swamps, wet savannas (dominated by Pinus serotina and/or Taxodium ascendens), per Weakley's Flora


NEW! Click here to see a range map (and maybe identification notes) from Weakley's Flora of the Southeastern US.

Click here to see a map showing all occurrences known to SERNEC, a consortium of southeastern herbaria. (Zoom in to see more detail.)
LEAVES:
Simple
Basal? Alternate, 3-ranked?

RHIZOMES? STOLONS?
Rhizomes long, scaly; plants forming large clonal colonies
FLOWER:
Spring/Summer
Unisexual
Perianth absent
3 stamens
Superior ovary

Inflorescences: spikes (1-3 staminate & 1-2 pistillate)

FRUIT:
Spring/Summer
Brownish
Nutlet

TO LEARN MORE about this plant, look it up in a good book!
---