Spermatophytes (seed plants): Angiosperms (flowering plants): Eudicots: Core Eudicots: Saxifragales

WEAKLEY'S FLORA OF THE SOUTHEASTERN US (4/24/22):
Myriophyllum laxum FAMILY Haloragaceae Go to FSUS key

---
Dig deeper at SERNEC, a consortium of southeastern herbaria.
Loose Water-milfoil grows very much like M. heterophyllum and also has reddish stems and greenish brown leaves. However, it has only 7-15 (-17) leaf segments vs. 15-31 (-37), and its flowering bracts are tiny and barely longer than flowers and fruits vs. broad and much longer in that more common species. Learn more at Vascular Plants of North Carolina.
---
COMMON NAME:
Loose Water-milfoil, Sandhills Milfoil, Lax Water-milfoil, Piedmont Water-milfoil
---
To see larger pictures, click or hover over the thumbnails.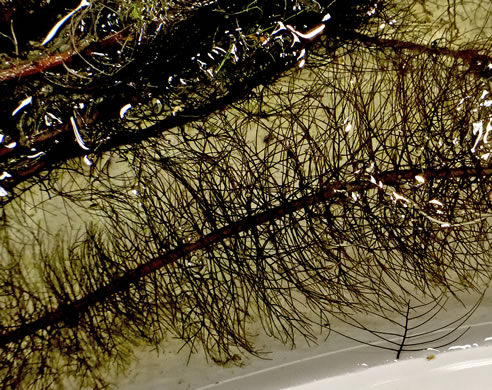 JK Marlow jkm160914_081
September
SE-EPPC Aquatic Plant ID Workshop
Its reddish submersed stems can be confused with M. heterophyllum when sterile, per Weakley's Flora.

COMPARE aquatic plants
4045
Submersed aquatic w flowers & fruits above the surface (rooted); Forb
Perennial

Habitat: Limesink depression ponds (dolines), spring-runs, rarely also in lakes, per Weakley's Flora
Native to the Carolinas & Georgia
Rare


CLICK HERE to see a map, notes, and images from Weakley's Flora of the Southeastern US.

Click here to see a map showing all occurrences known to SERNEC, a consortium of southeastern herbaria. (Zoom in to see more detail.)
LEAVES:
Leaves well-developed: pinnately divided with filiform segments
Submersed lvs alternate &/or pseudo-whorled. Bracts of emersed shoots different

FLOWER:
Summer/Fall
Reddish
4 sepals
4 petals
4-8 stamens
Inferior ovary
Usually bisexual & staminate in the same inflorescence

Flowers in spikes

FRUIT:

TO LEARN MORE about this plant, look it up in a good book!
---
If a search such as "Carex leptalea var. leptalea" doesn't deliver the results you want, try "Carex leptalea".
Or, to minimize chances of a misspelling, try just "Carex le".
Less is more: If "pencil flower" doesn't deliver the results you want, try "pencil".