Your search found 6 image(s) of leaves of Galax and Oconee Bells.
Clicking or hovering over any of the pictures below will display a larger image; clicking the plant's name will provide information about the plant pictured.
---
Oconee Bells, Southern Shortia
Shortia galacifolia


Look for it on moist slopes, creekbanks, and rock outcrops in humid escarpment gorges with high rainfall, generally in deep shade under Rhododendron maximum & R. minus. This species occurs in Transylvania & Jackson counties, NC, Oconee & Pickens counties, SC, and Rabun County, GA, where it occurs in the remarkable escarpment gorges region, at elevations from 200-650m (formerly at lower elevations, now submerged under Lake Jocassee). Most of the population of this species was destroyed in the 1960's by the construction of Lake Jocassee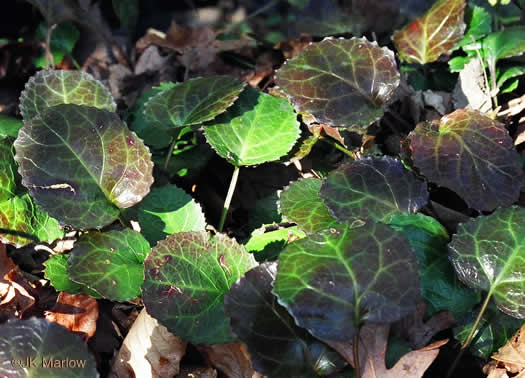 Glossy leaves resembling Galax - as the specific name implies, per Wild Flowers of NC, 1st edition.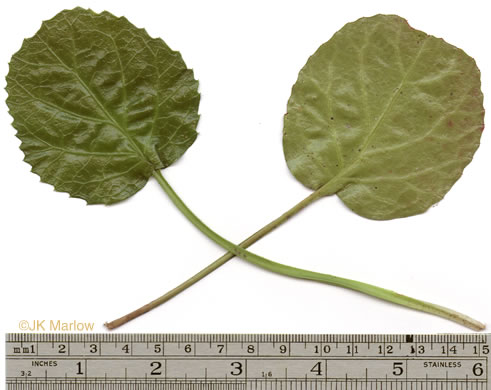 Leaves with pinnate veins (vs. the palmate veins of Galax), per Wildflowers of the Southern Mountains.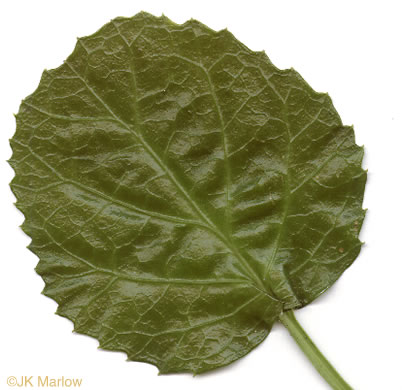 Leaves orbicular to elliptic-orbicular, coarsely crenate-serrate, per Vascular Flora of the Carolinas.
---
Galax, Beetleweed
Galax urceolata


Look for it in mountain forests, rock outcrops, nearly ubiquitous in the Mountains, more restricted in habitat elsewhere, moist to dry slopes in Piedmont & Coastal Plain, often associated with Kalmia latifolia or Rhododendron maximum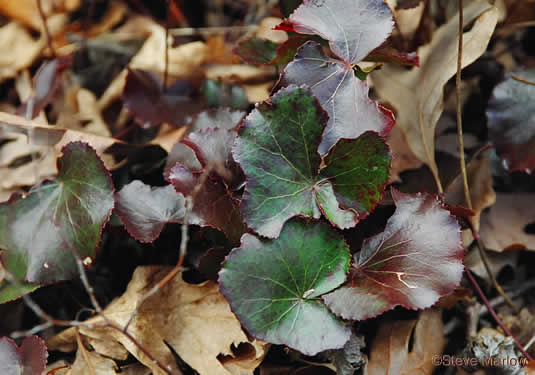 Leaves sharp-toothed, glossy, and often aging to wine-red or bronze, per Wildflowers of the Southern Mountains.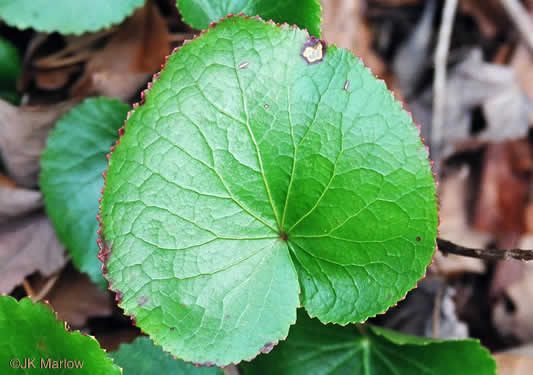 Galax is often called Coltsfoot because of the shape of its leaves, per Great Smoky Mountains Wildflowers.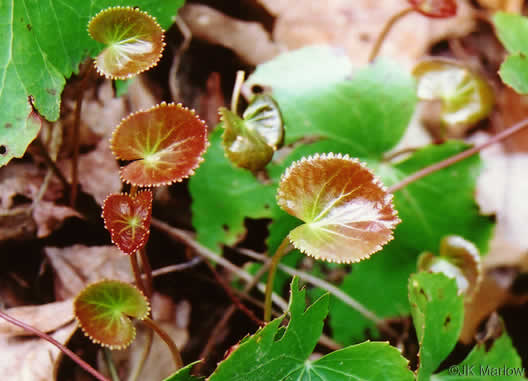 Leaves nearly circular with palmate veins [vs. the pinnate veins of Shortia], per Wildflowers of the Southern Mountains.