Spermatophytes (seed plants): Angiosperms (flowering plants): Monocots: Asparagales

WEAKLEY'S FLORA (11/30/12):
Platanthera conspicua FAMILY Orchidaceae

---
SYNONYMOUS WITH PLANTS NATIONAL DATABASE:
Platanthera blephariglottis var. conspicua FAMILY Orchidaceae
INCLUDED WITHIN VASCULAR FLORA OF THE CAROLINAS (Radford, Ahles, & Bell, 1968) 049-03-013a?:
Habenaria blephariglottis var. blephariglottis FAMILY Orchidaceae
SYNONYMOUS WITH Gray's Manual of Botany (Fernald, 1950)
Habenaria blephariglottis var. conspicua
SYNONYMOUS WITH Manual of the Southeastern Flora (Small, 1933, 1938)
Blephariglottis conspicua
COMMON NAME:
Large White Fringed Orchid, Southern White Fringed Orchid
---
To see larger pictures, click or hover over the thumbnails.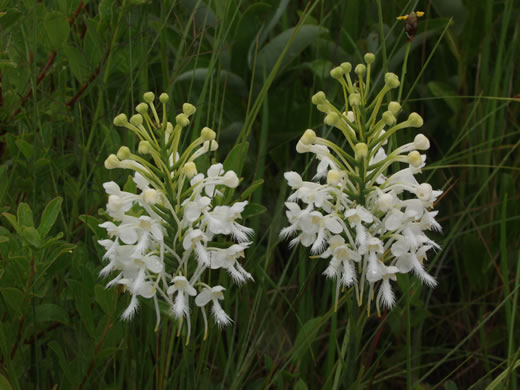 Jim Fowler jafpconspicua_1
August Brunswick County NC
Green Swamp
Lip has a filiform fringe & a distinct isthmus. Spur often to 3" long, per Wild Orchids of South Carolina: A Popular Natural History.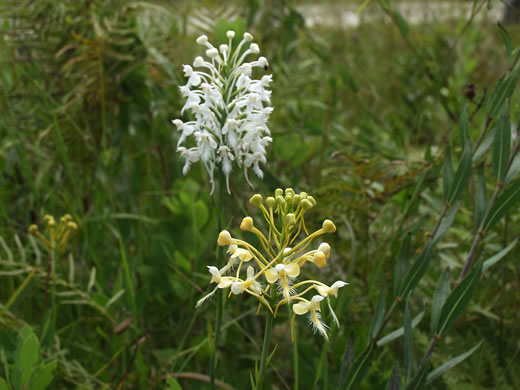 Jim Fowler jafpla_000a
August-September? Berkeley County SC
Francis Marion National Forest
In the foreground is a hybrid of P. conspicua & P. ciliaris called P. Xlueri
WEAKLEY'S FLORA (11/30/12):
Platanthera conspicua FAMILY Orchidaceae

SYNONYMOUS WITH PLANTS NATIONAL DATABASE:
Platanthera blephariglottis var. conspicua FAMILY Orchidaceae
INCLUDED WITHIN VASCULAR FLORA OF THE CAROLINAS (Radford, Ahles, & Bell, 1968) 049-03-013a?:
Habenaria blephariglottis var. blephariglottis FAMILY Orchidaceae
SYNONYMOUS WITH Gray's Manual of Botany (Fernald, 1950)
Habenaria blephariglottis var. conspicua
SYNONYMOUS WITH Manual of the Southeastern Flora (Small, 1933, 1938)
Blephariglottis conspicua
2375
Forb
Perennial

Native to the Carolinas & Georgia
Documented growing wild in GA NC SC
Uncommon
Look for it in savannas, seepages, sandhill-pocosin ecotones, per Weakley's Flora


Click here to see a more detailed map from University of North Carolina at Chapel Hill Herbarium,

or click here to see a map from SERNEC, a consortium of southeastern herbaria.
LEAVES:
Simple
Alternate, with floral bracts upward

FLOWER:
Summer/Fall
White
Bisexual
Bilaterally symmetrical
3 sepals, two lateral and one dorsal
3 petals, the two lateral similar and a third (the lip) enlarged
stamens and pistil fused together into a column
Inferior ovary

Raceme

FRUIT:
Summer/Fall
Capsule

TO LEARN MORE about this plant, look it up in a good book!
---