Spermatophytes (seed plants): Angiosperms (flowering plants): Eudicots: Core Eudicots: Rosids: Malvids: Malvales

WEAKLEY'S FLORA (5/21/15):
Kosteletzkya pentacarpos FAMILY Malvaceae

---
INCLUDING PLANTS NATIONAL DATABASE:
Kosteletzkya virginica FAMILY Malvaceae
INCLUDED WITHIN Innovations in Hibiscus & Kosteletzkya (Malvaceae, Hibisceae) (Blanchard, 2008)
Kosteletzkya pentacarpos
SYNONYMOUS WITH (ORTHOGRAPHIC VARIANT) VASCULAR FLORA OF THE CAROLINAS (Radford, Ahles, & Bell, 1968) 122-07-001:
Kosteletskya virginica FAMILY Malvaceae
SYNONYMOUS WITH -
Hibiscus pentacarpos
COMMON NAME:
Southern Seashore Mallow, Seashore Marshmallow, Virginia Saltmarsh Mallow
---
To see larger pictures, click or hover over the thumbnails.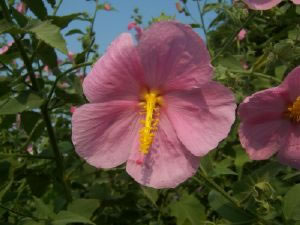 Alistair Glen gwn_kosteletskyavirgi_cu
August Pender County NC
Showy hibiscus-like flowers are immediately recognizable as Mallow family, per Atlantic Coastal Plain Wildflowers.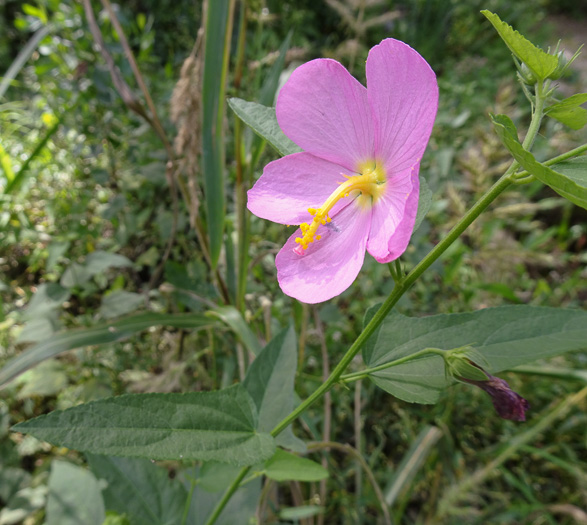 Dan Whitten sdw_kosteletzkya
September Westmoreland County VA
Lvs triangular-lanceolate to triangular-ovate, base usually sagittately lobed, per Vascular Flora of the Carolinas.
WEAKLEY'S FLORA (5/21/15):
Kosteletzkya pentacarpos FAMILY Malvaceae

INCLUDING PLANTS NATIONAL DATABASE:
Kosteletzkya virginica FAMILY Malvaceae
INCLUDED WITHIN Innovations in Hibiscus & Kosteletzkya (Malvaceae, Hibisceae) (Blanchard, 2008)
Kosteletzkya pentacarpos
SYNONYMOUS WITH (ORTHOGRAPHIC VARIANT) VASCULAR FLORA OF THE CAROLINAS (Radford, Ahles, & Bell, 1968) 122-07-001:
Kosteletskya virginica FAMILY Malvaceae
SYNONYMOUS WITH -
Hibiscus pentacarpos
783
Forb
Perennial

Native to the Carolinas & Georgia
Documented growing wild in GA NC SC
Common
Look for it in brackish to freshwater tidal marshes, per Weakley's Flora


Click here to see a more detailed map from University of North Carolina at Chapel Hill Herbarium,

or click here to see a map from SERNEC, a consortium of southeastern herbaria.

...Wet ...Variable
LEAVES:
Simple
Alternate

FLOWER:
Summer/Fall
Pink/Lavender/White
5 sepals united at base
5 petals united at base
Stamens united to form a staminal column surrounding ovary and styles
Superior ovary

FRUIT:
Summer/Fall
Capsule

TO LEARN MORE about this plant, look it up in a good book!
---