"In Euphorbia, the small structure that appears to be a single flower — technically known as a cyathium — is a lobed, cup-shaped involucre with glands at the bases of the segments, containing one or more staminate flowers (each consisting of a single stamen only) surrounding a solitary pistillate flower (a stalked ovary topped by 3 styles).
"In some species the involucre also bears appendages that simulate petals. (The well-known Poinsettia is a Euphorbia in which brightly colored leaves beneath the inflorescence give the impression of a large-petaled flower.)" — Wildflowers of the Southern Mountains, by Richard M. Smith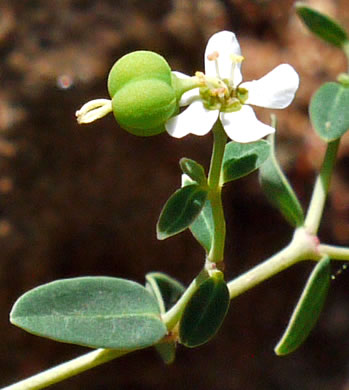 ---
Links to:
How Plants Grow: A Simple Introduction to Structural Botany by Asa Gray
Habit Terms
Plant Morphology Terms
Natural Communities
---
Other glossaries...
From Wayne's Word, an online textbook of natural history
From vPlants: a Virtual Herbarium of the Chicago Region
From Vascular Plant Systematics, by Radford, Dickison, Massey, and Bell
From the Plant Information Center at UNC, Chapel Hill
From the Native Plant Trust GoBotany project
From the Virginia Department of Conservation and Recreation
From the Northern Ontario Plant Database
From the Digital Atlas of Ancient Life
From the Australian Pea-flowered Legume Research Group
From (?)
---