Basic morphology:
A simple leaf consists of a blade, joined to the woody twig by a stalk, the petiole.
The area of twig where the petiole arises is called the node; usually a bud is also found there.
Sometimes the petiole is very short or lacking; then the leaf is sessile.
In some monocots, a basal sheath replaces the petiole, and partially envelopes the stem.
Stipules are leaf-like modifications of leaf bases, on petioles or twigs of some plants.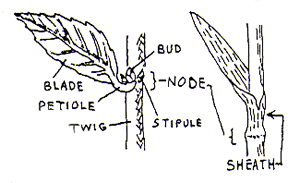 ---
Venation:
The midrib is the largest, central vein, becoming the petiole below the blade.
Main veins branch from the midrib into a successively smaller network.
Pinnate venation

shows all main veins branching from along midrib.

Palmate venation

shows several main veins branching from a common point of midrib at base of blade.

Arcuate venation

is essentially pinnate, but main veins curve to follow margin of blade.
Parallel (in many monocots) shows many straight veins side by side from base to tip.
---
Texture:
Leaf surfaces can be smooth and hairless (glabrous), or "hairy" in some way. (See discussion on general features.) Additionally, leaf surfaces can be
lustrous

or

glossy

(shiny),

dull

(green but not shiny), or

glaucous

(pale or whitened).
Coriaceous leaves are thick, stiff, or leathery.
If they persist beyond Autumn and Winter seasons and fall after new leaves emerge in Spring they are evergreen. Deciduous leaves fall before or during the Autumn season. Some leaves may be tardily deciduous (semi-evergreen); these fall gradually during Winter, or only after sufficiently cold weather.
---
Leaf types:
Simple leaves have one blade.
Compound leaves have divided blades, each blade-like portion called a leaflet.
Types of compound leaves are:
Pinnate

. Leaflets attached along a central stem, the

rachis

. (The lower portion of the rachis, below lowermost Ieaflets, is the

petiole.

)

Bipinnate.

Twice pinnately divided; each side rachis and its Ieaflets are

pinnae

.

Palmate

. Leaflets originate at terminal end of petiole.

Trifoliate.

Three leaflets.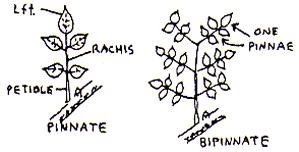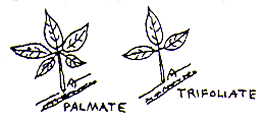 ---
Links to:
How Plants Grow: A Simple Introduction to Structural Botany by Asa Gray
Habit Terms
Plant Morphology Terms
Natural Communities
---
Other glossaries...
From Wayne's Word, an online textbook of natural history
From vPlants: a Virtual Herbarium of the Chicago Region
From Vascular Plant Systematics, by Radford, Dickison, Massey, and Bell
From the Plant Information Center at UNC, Chapel Hill
From the Native Plant Trust GoBotany project
From the Virginia Department of Conservation and Recreation
From the Northern Ontario Plant Database
From the Digital Atlas of Ancient Life
From the Australian Pea-flowered Legume Research Group
From (?)
---