Spermatophytes (seed plants): Angiosperms (flowering plants): Eudicots: Core Eudicots: Rosids: Malvids: Myrtales

WEAKLEY'S FLORA (11/30/12):
Oenothera riparia FAMILY Onagraceae

---
(?) INCLUDED WITHIN PLANTS NATIONAL DATABASE:
Oenothera fruticosa ssp. glauca FAMILY Onagraceae
INCLUDED WITHIN Synthesis of the North American Flora (Kartesz, 1999)
Oenothera fruticosa ssp. fruticosa
INCLUDED WITHIN VASCULAR FLORA OF THE CAROLINAS (Radford, Ahles, & Bell, 1968) 137-02-009?:
Oenothera fruticosa FAMILY Onagraceae
SYNONYMOUS WITH Onagraceae (Munz, 1965)
Oenothera tetragona ssp. glauca var. riparia
COMMON NAME:
Riverbank Evening Primrose, Riverbank Sundrops
---
To see larger pictures, click or hover over the thumbnails.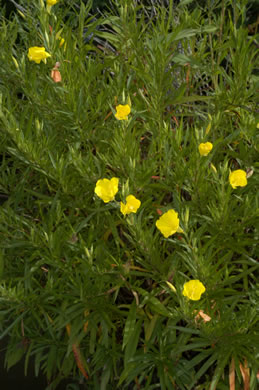 Patrick D. McMillan pdmoriparia_wac
June
Has spongy lower stems & adventitious roots where regularly submerged, per Weakley's Flora.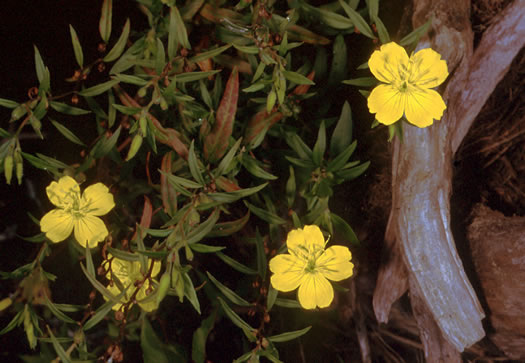 Patrick D. McMillan pdmo_riparia
Month Unknown
Leaves linear-lanceolate and rather thick, per Guide to the Wildflowers of SC.
WEAKLEY'S FLORA (11/30/12):
Oenothera riparia FAMILY Onagraceae

(?) INCLUDED WITHIN PLANTS NATIONAL DATABASE:
Oenothera fruticosa ssp. glauca FAMILY Onagraceae
INCLUDED WITHIN Synthesis of the North American Flora (Kartesz, 1999)
Oenothera fruticosa ssp. fruticosa
INCLUDED WITHIN VASCULAR FLORA OF THE CAROLINAS (Radford, Ahles, & Bell, 1968) 137-02-009?:
Oenothera fruticosa FAMILY Onagraceae
SYNONYMOUS WITH Onagraceae (Munz, 1965)
Oenothera tetragona ssp. glauca var. riparia
2689
Forb
Perennial

Native to the Carolinas
Documented growing wild in - NC SC
Rare
Look for it in tidal marshes, per Weakley's Flora


Click here to see a more detailed map from University of North Carolina at Chapel Hill Herbarium,

or click here to see a map from SERNEC, a consortium of southeastern herbaria.
LEAVES:
Simple
Alternate

FLOWER:
Summer
Yellow
4-lobed calyx
4 petals
8 exserted stamens
Inferior ovary

FRUIT:
Capsule

TO LEARN MORE about this plant, look it up in a good book!
---