Spermatophytes (seed plants): Angiosperms (flowering plants): Eudicots: Core Eudicots: Asterids: Ericales

WEAKLEY'S FLORA (2/8/20):
Hypopitys species 3 FAMILY Ericaceae

---
(?) INCLUDED WITHIN PLANTS NATIONAL DATABASE:
Monotropa hypopitys FAMILY Monotropaceae
INCLUDED WITHIN (MISAPPLIED TO NORTH AMERICAN PLANTS) The Biota of North America Program. BONAP (Kartesz, 2015)
Hypopitys monotropa
INCLUDED WITHIN (MISAPPLIED TO NORTH AMERICAN PLANTS) VASCULAR FLORA OF THE CAROLINAS (Radford, Ahles, & Bell, 1968) 145-03-002?:
Monotropa hypopithys FAMILY Ericaceae
INCLUDING & INCLUDED WITHIN (MISAPPLIED) Manual of the Southeastern Flora (Small, 1933, 1938)
Hypopitys americana
COMMON NAME:
Eastern Pinesap
---
To see larger pictures, click or hover over the thumbnails.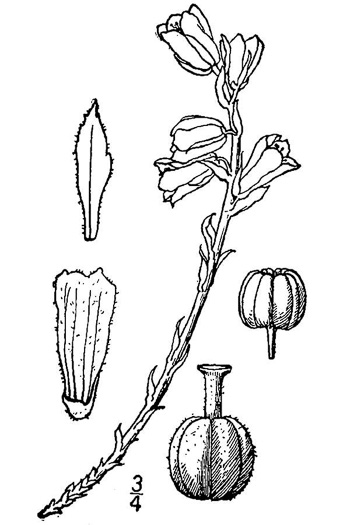 USDA-NRCS PLANTS Database / Britton, N.L., and A. Brown. 1913 pnd_hyam5_001_lvd
Hypopitys americana (DC.) Small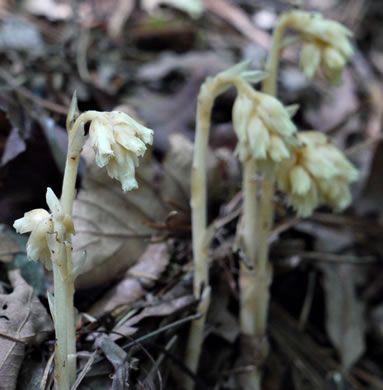 JK Marlow jkm120616_922
June Greenville County SC
Jones Gap State Park
Early season flowering material is usually yellow or tawny, per Vascular Flora of the Carolinas.

COMPARE Indian Pipes, Pinesap and Pygmy Pipes
WEAKLEY'S FLORA (2/8/20):
Hypopitys species 3 FAMILY Ericaceae

(?) INCLUDED WITHIN PLANTS NATIONAL DATABASE:
Monotropa hypopitys FAMILY Monotropaceae
INCLUDED WITHIN (MISAPPLIED TO NORTH AMERICAN PLANTS) The Biota of North America Program. BONAP (Kartesz, 2015)
Hypopitys monotropa
INCLUDED WITHIN (MISAPPLIED TO NORTH AMERICAN PLANTS) VASCULAR FLORA OF THE CAROLINAS (Radford, Ahles, & Bell, 1968) 145-03-002?:
Monotropa hypopithys FAMILY Ericaceae
INCLUDING & INCLUDED WITHIN (MISAPPLIED) Manual of the Southeastern Flora (Small, 1933, 1938)
Hypopitys americana
946
Forb
Perennial

Native to the Carolinas & Georgia
Documented growing wild in GA NC SC
Uncommon (rare in GA Coastal Plain)
Look for it in forests, per Weakley's Flora


Click here to see a more detailed map from University of North Carolina at Chapel Hill Herbarium,

or click here to see a map from SERNEC, a consortium of southeastern herbaria.

...Moist
LEAVES:
Simple

FLOWER:
Spring/Summer
Yellow/Tawny
Bisexual
Radially symmetrical
4 petals on lateral flowers/5 petals on terminal flower
8-10 stamens
Superior ovary

FRUIT:
Spring/Summer
Capsule

TO LEARN MORE about this plant, look it up in a good book!
---